The Netherlands is known for many things, such as winding canals, colorful tulips, spinning windmills and wooden shoes. However, what the country is not known for is mountains – the Netherlands is among the flattest and lowest-lying nations in Europe.
Nevertheless, the Netherlands has some of the world's best indoor slopes and is a hotbed for snow sports. If you were a Dutch snowboarder in the early 2000s, you might remember how unforgivingly hard some indoor landings could be.
This is what inspired BigAirBag creator Marcel Kraan to come up with his giant airbag solution. Kraan would take his children to indoor playgrounds equipped with ball pits and foam, where they could go all-out and come back unscathed. After years of hard falls, broken bones and other injuries from snowboarding, he wondered why there wasn't something similar for snow sports enthusiasts like him – and he set his sights on designing one.
First launched in 2005, the BigAirBag is an inflatable training platform that provides tremendous impact absorption and a forgiving slide. BigAirBag gives athletes a soft landing each and every time they fall, resulting in smiles instead of trips to the hospital.
"The first place we took our BigAirBag was to France to try it out," said BigAirBag CEO Tomas Huting. "At the end of the season, the resort thanked us for demonstrating our new 'toy,' and because it was such a success and drew crowds all season, they bought it and we left it behind. So, we made another one for ourselves and the business has only grown from there."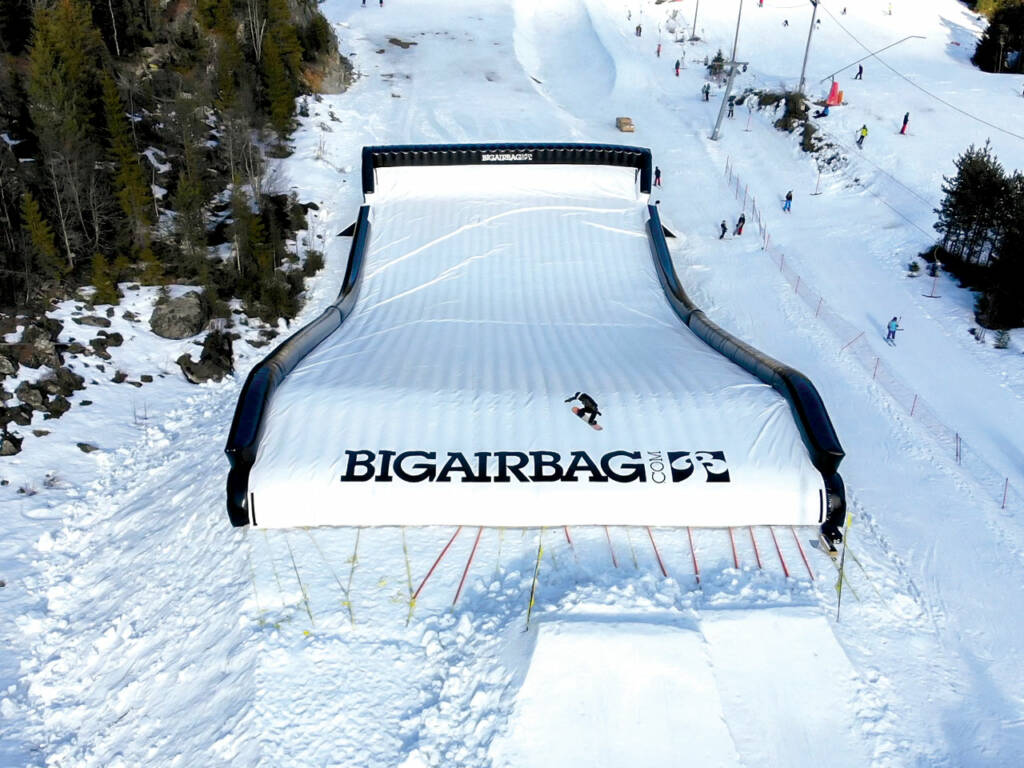 When BigAirBag was established, the company was mostly for fun, and the product was primarily meant for Kraan's first love – snowboarding. However, the extreme versatility of BigAirBag also makes it applicable for gymnastics and many other action sports, such as motocross, BMX mountain biking, inline skating, tubing or skiing. The possibilities are endless so long as they are done on land; although the BigAirBag is inflatable, it doesn't float.
BigAirBag is used wherever in the world action sports take place. The company recently installed the product in Honolulu, Hawaii, and BigAirBag has sold as far north as Anchorage, Alaska. From Egypt to Japan and Australia to Brazil, the product can be found wherever athletes get off the ground and need to come back down safely.
When it comes to safety, BigAirBag believes that size matters. The fear of injury can stop many athletes from achieving greatness and keep beginners from even trying at all. BigAirBag takes away that fear and assures athletes of any skill level that, no matter how bad the fall, every landing will be soft.
"Even if you crash hard headfirst, you can walk away laughing," said Huting. "So, on the next jump, you'll go just a little bit harder and a little bit higher, or maybe start your rotation a little bit earlier to complete an extra spin. BigAirBag helps overcome the mental part of the sport, and once you feel safe, you will look to push the envelope and challenge your limits."
BigAirBag works closely with the world's best athletes and brands to design, develop and improve its product line. Delivering an unparalleled customer experience is important to the company, which relies on user feedback to deliver a best-in-class product.
"We are all just snowboarders, and that's why we stay close to the athletes," said Huting. "Their feedback is like gold to us, and with what they tell us, we can always find a solution for any problem."
The fear of injury can stop many athletes from achieving greatness and keep beginners from even trying at all. BigAirBag takes away that fear and assures athletes of any skill level that, no matter how bad the fall, every landing will be soft.
BigAirBag continues to be assembled in the Netherlands. To provide the highest level of safety and quality, the company has invested heavily in developing one of Europe's most advanced production facilities specializing in inflatable sports equipment. The company also has a smaller assembly facility in Michigan to improve service to the U.S. market. The company only uses materials sourced from Germany, chosen for its high quality and consistency.
"BigAirBag is essentially personal protective equipment and, as such, it is a product that has to guarantee it will always perform as advertised," said Huting. "Germany has an excellent reputation for precision, accuracy and innovation, and this is why we exclusively use them to develop and manufacture our raw materials and fabrics."
The highly advanced Topsheet material features ride-away technology that combines essential properties such as strength, flexibility and elasticity. The end product is so durable that, in 2006, the company completed the world's first car backflip on a BigAirBag. Made from lightweight Kevlar, the standard Topsheet is neither grippy nor abrasive and allows an athlete to land and ride away even with sharp ski and snowboard edges.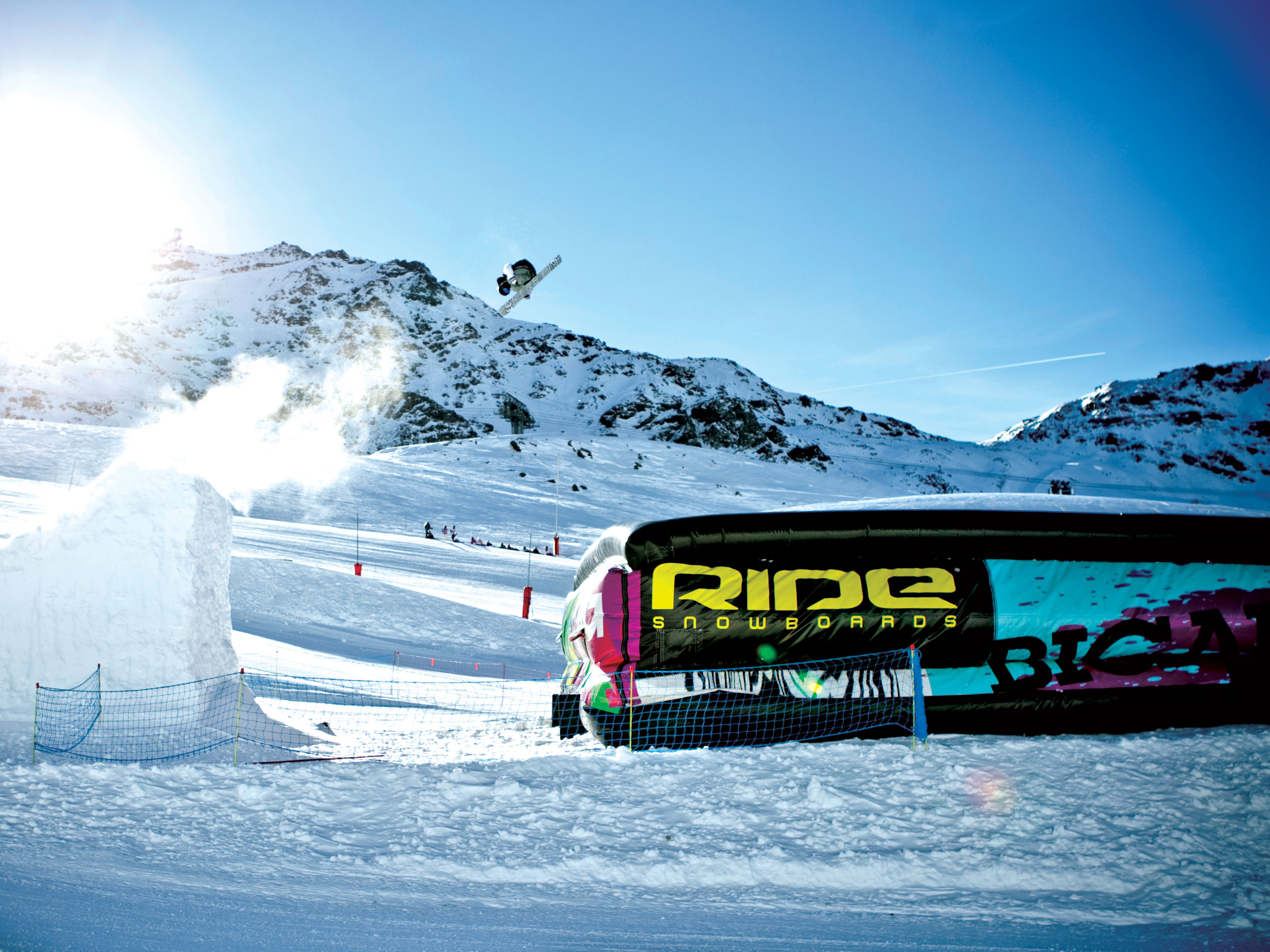 "However, for some customers, they want the 'grippiness,' and we give it to them," said Huting. "If you're riding a motorbike and you land on your tires, you need the flexibility, firmness and elasticity, but the Topsheet also needs to provide instant friction so you can stay in control. No matter the sport, we will always choose the material that's right for you."
Whether athletes are just starting out or are fully-fledged pros trying to perfect a new challenging trick, BigAirBag has a variety of products to suit every age and skill level.
"The BigAirBag used to train for the Olympics is probably not the same airbag that you're going to use at the ski school for children practicing their first jumps," said Huting. "Aside from a few standard products, every order is custom and we treat each order as being unique from a risk analysis perspective. So, we always want to work with the customer, learn what they want to use BigAirBag for, and then make sure they get the right quality product that works best for them."
BigAirBag is also committed to sustainability and being a responsible citizen of Earth. Therefore, BigAirBag only uses sustainable industrial textiles in its production processes and is continually exploring new ways to reuse residual materials.
"The mindset of our company is to build our products in such a way that you can maintain them for a lifetime," said Huting. "If a BigAirBag product is returned damaged to our factories, we can always refurbish it regardless of its age. This is important to us because we never want to make a product that will one day end up in the garbage."
Looking ahead, BigAirBag plans to maintain its meteoric growth in the action sports space and continue giving athletes a safe and soft landing each time they fall, enabling them to redefine their limits.