Over the last few decades, ski resorts and ski areas have diversified their operations to fit the needs of an evolving climate and audience.
"Still, it's not a one-size-fits-all undertaking," said Claire Humber, director of resort planning at SE Group, a planning and design firm, that offers services in ski area recreation. "When the concept of multi-season recreation was new, with activities such as mountain biking and tubing, it was easy for people to think, 'Oh, we'll just do what they did.'"
Humber's career in master planning has spanned 30 years at SE Group. She has witnessed how the industry has transformed over time. While climate change remains pervasive, issues such as staff retention and a declining skier population have quietly loomed in the distance.
"If you get a good person on staff, you want to keep them and have them grow into other positions," said Humber. "So, if you can't keep them busy year-round, they will end up looking for jobs elsewhere."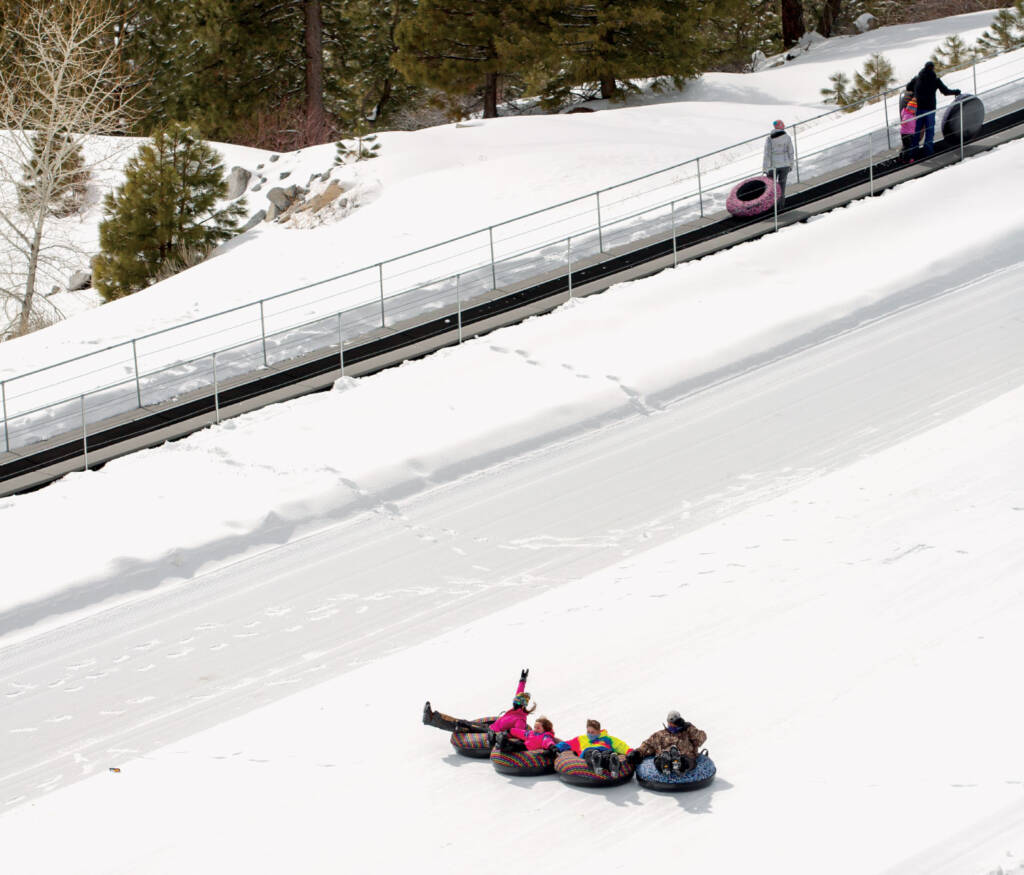 The ability to retain staff year-round can have a massive impact on a resort's level of service, but the foot traffic to maintain that quality team presents another struggle.
"The opportunity when you think about it from a winter perspective, only a small percentage of the population skis in the United States," said Humber. "So, that's a small pool out of a big pool of people. Diversifying activities for more people widens your market."
Humber says that SE Group's master planning looks at winter recreation more broadly now, including activities related to four-season play as climate change is making it more challenging for some areas to offer snow products, and creating other lines of business is becoming a necessary pursuit. "It's not just about skiing anymore, and it hasn't been for quite a long time."
Even though replacing a ski hill with another activity may feel like a logical swap, that's not always the case with terrains.
"For some ski terrain, it may not have another use," said Humber. "However, you can use other terrains for downhill mountain biking, fat tire biking or tubing. Not all terrains can serve different uses, but lower gradient terrain is more likely to morph into different uses."
Discovering a resort's unique position in the market isn't a difficult feat, but it does require some capital.
Diversifying on-slope services and planning for summer activities is not a light undertaking, and Humber advises against imitating the operations of another resort.
"It must be unique to your marketplace, unique to your facilities and unique to your operational conditions," she said. "Ultimately, it must be unique to your brand."
Discovering a resort's unique position in the market isn't a difficult feat, but it does require some capital. Humber recommends the investment because, frankly, she says expanding an operation can be "an expensive undertaking, and no one wants to adversely impact their existing business."
"Smart operators always look to their current market. They want to be consistent with their brand and satisfy their customer base," said Humber. "The question is, though, are you going to continue to cater to the guests you already have, or seek to expand and cater to a broader collection of guests?"
To answer these questions, Humber directs clients to conduct in-depth market and financial analysis alongside activity planning.
"There is a lot of conversation now in the industry amongst those already in the business of four-season operation around optimization and making sure that adding activities isn't at the expense of maintaining your bottom line," said Humber. "The balance between revenue and expense is an important one to understand."
The timeline for improvements can vary because of this balance. "Many operators may have initial parameters such as 'I have X amount of money for initial capital investment,'" said Humber. "So the goal is to lead with additions to the operation that will generate additional income and self-fund later phases.
"It depends on the situation, operation and ownership. The answer lies in working the process and trusting that if you do the homework correctly, you will get the clarity you need to succeed."
Brad Wilson, general manager for Bogus Basin, a charitable organization that offers affordable recreation activities, agrees. Wilson has worked with the SE Group since the '90s at different resorts.
The ability to retain staff year-round can have a massive impact on a resort's level of service, but the foot traffic to maintain that quality team presents another struggle.
"I hired them to create a master plan for Diamond Peak Ski Resort in Incline Village in Nevada," said Wilson. "We updated the winter plan and created a new one to add summer activities."
They looked at the most popular (and profitable) activities, including mountain coasters, mountain bike and hiking trails, summer tubing and a climbing wall to determine what activities would be the most viable for the resort's bottom line.
"I was so invested in the new plan for Diamond Peak that I stayed on for an additional six weeks – after accepting the general manager position at Bogus Basin – to ensure the elected community board passed it," said Wilson.
He says Bogus Basin worked closely with SE Group in a similar capacity to determine which activities would fit their summer operations.
"In 2017, we installed the Glade Runner mountain coaster and summer tubing, a climbing tower, a gem panning [activity] and trampoline bungee jump," said Wilson. "We also started to build out our downhill mountain bike trails."
Wilson says they have experienced growth each summer of operations with a 46 percent increase in revenue this past summer from their pre-pandemic record season. However, if deciding to move into summer activities, don't overestimate the market, says Wilson.
"[We're] at the end of a dead-end road, 16 miles from Boise, we had to create enough of a summer program to entice people to drive up exclusively for our summer activities," he said. "If you are a long way from a significant population or there is low traffic to your surrounding area in the summer, you may want to reconsider summer attractions."
Humber agrees.
"Summer business is very different, it's very foreign to winter operators and in some cases, daunting," she said.
Successful operations Humber has seen include mountain adventure parks with an alpine coaster, zip-lining and downhill mountain biking.
"Recreational activities aren't the only option for ski resorts and ski areas," she said. "Some people have focused their operations primarily on events.
"Base lodges are big buildings with typically expansive seating areas. Some ski areas have been very successful in developing their ski lodges as wedding venues. Weddings can generate significant revenue if you have a suitable venue, both inside and out.
"That said, people will always want to come to the mountains. They've been coming to the mountains since before skiing was available and likely will continue to want mountain-oriented outdoor recreational pursuits – whether or not there is skiing available."