Nestled between the Appalachian and Blue Ridge mountains, all-seasons Massanutten Resort sits within Virginia's picturesque Shenandoah Valley and has been an all-season destination of choice for those in the region looking to kick back, relax and hit the slopes over the last 50 years.
Approximately 100 miles from Washington, D.C., and Richmond, Va., Massanutten is an easy getaway for East Coast adventure seekers. The resort is just 12 miles from the city of Harrisonburg, Va., which is a welcoming community that has earned its slogan as 'The Friendly City,' well-known for its culinary district, as well as the many breweries and vineyards that dot the surrounding countryside.
For outdoor enthusiasts, Massanutten has George Washington National Forest and Shenandoah National Park and Skyline Drive in its backyard. Visitors to the region would also be well-advised to bring their bikes as Harrisonburg is acclaimed as a Bronze-level International Mountain Biking Association Ride Center – one of only 11 such Ride Centers world-wide. The homes of former U.S. Presidents James Madison and Thomas Jefferson are nearby, and the area is famous for its historically significant Civil War battlefields.
"For us, one of the star attractions in the area has to be the skiing and, in that regard, Massanutten Resort truly does have something for everyone," said Kenny Hess, director of sports and risk management at Massanutten Resort. "We feature 100 percent snowmaking coverage, and all our terrain is open for night skiing with the most vertical drop in the region. We also have a fantastic ski school, multiple terrain parks, a very popular snow tube park and ice skating that complements our ski terrain."
For less winter-inclined adventurers, Massanutten's 6,000 acres of mountain fun also offer a wide variety of warm weather amenities that set it apart from the competition. The resort's award-winning, Indoor WaterPark maintains a year-round temperature of 84 degrees for those guests seeking a retreat from the cold. When the temperature warms up, guests can enjoy Massanutten's five pools, two golf courses, Family Adventure Park, two recreation centers, downhill lift served bike park and cross-country mountain biking, spa, activity programs, escape rooms, festivals, indoor and outdoor dining options, and multiple retail options.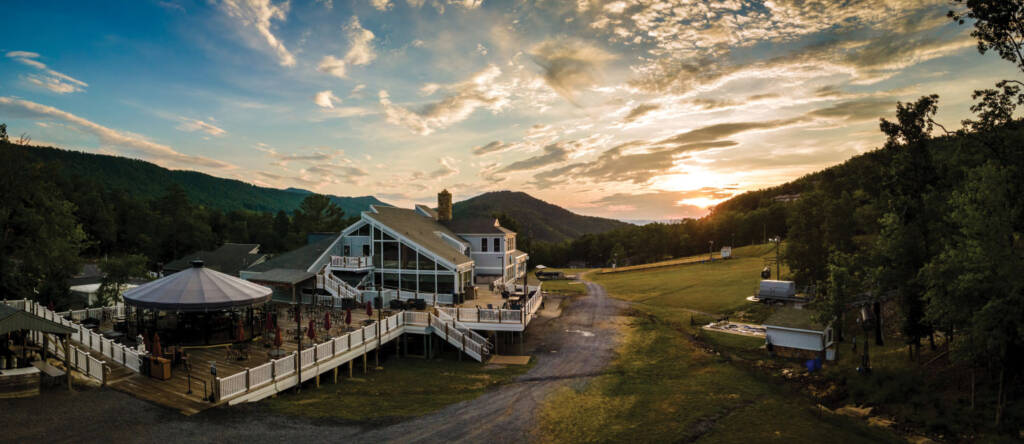 When it first opened, Massanutten Resort was billed as a resort vacation community with close to 1,200 individual lots, and skiing, golf, tennis and horseback riding were the main draws. Today the once-vacation homes on site have become primary residences and Massanutten's condo and hotel accommodations play host to more than 10,000 residents, with its occupancy being higher in the summer months than in the winter.
Due to its size, Massanutten Resort is one of the area's largest employers, employing nearly 1,500 staff seasonally. Massanutten is also 100 percent employee-owned through a generous Employee Stock Ownership Plan created in 1993 by the two men who first established the resort – Jim Lambert and Dice Hammer.
"The complete buyout took over 20 years to come to fruition and is a testament to the long-term vision of the company founders and, today, more than 3,000 current and former employees participate in the program," said Hess.
Behind the scenes
To ensure the quality of its slopes, Massanutten Resort maintains a fleet of five snow grooming machines, including one dedicated to snow tube operations, a winch cat and another snowcat that is primarily dedicated for light maintenance projects. The resort's lead mechanic and groomer, Cory Bradburn, also co-owns Tube Shaper, a local company that created a unique snow grooming implement for building snow tubing lanes. The resort grooms most of its terrain daily, either at night or in the early morning, depending on the weather and snow conditions at the time.
Massanutten Resort's snowmaking systems have evolved greatly from 100 percent air/water labor-intensive to a mix of air/water and airless systems, with an ever-increasing reliance on automation and low energy guns. Its current air/water system is largely comprised of HKD Snowmakers, with some additional auto- and semi-auto TechnoAlpin and SMI fan guns.
"We are in the middle of our largest ski expansion project in 30 years," said Hess. "This season will see expanded snowmaking pumping capacity to service three new trails, which will also be lit for night skiing, and replace some older manual fan technology. We will also increase coverage by adding 44 new fully [automatic] fan snowmakers to our fleet, as well as replace up to 19,000 feet of snowmaking pipe and increase the pumping capacity to our snowmaking system."
Over the years, the resort has replaced its original lifts, which were four Borvig double chairs and a J-Bar. Currently it has three fixed-grip quads (two Doppelmayrs and a Borvig), a fixed-grip triple (Partek) and five conveyors (four Sunkid conveyors and a Magic Carpet). Two of the fixed-grip quads have Chairkid loading conveyors and two of the conveyors serve the snow tubing operation. Next year Massanutten will replace its oldest fixed-grip Borvig quad with a detachable Doppelmayr quad.
Massanutten's commitment to ESG
Massanutten Resort is actively involved in the community and across the Shenandoah Valley region, and the company is always looking for ways to give back. In addition to working with organizations like the United Way, the resort's three large music festivals – ValleyFest, Summer Jam and Fall Festival – benefit various non-profit organizations and critical services in the area.
"These events have been going on for over two decades and have raised well over $1 million in that time," said Hess. "We also give all our Massanutten employees up to eight hours of service pay per year so that everyone who works here can be part of something they are passionate about."
Massanutten Resort maintains a strong focus on building a culture of safety. In 2022, the resort provided Occupational Health & Safety OSHA 10 and OSHA 30 training (in general industry and construction) to 29 of its employees, and its lift maintenance team recently demonstrated the resort's Lift Maintenance Fall Protection Plan at the Southeast Lift Maintenance Seminar in North Carolina. In addition, the resort's patrol and Adventure Park team have developed an advanced lift evacuation team to train Massanutten's general lift evacuation teams, as well as respond to extraordinary lift evacuation scenarios.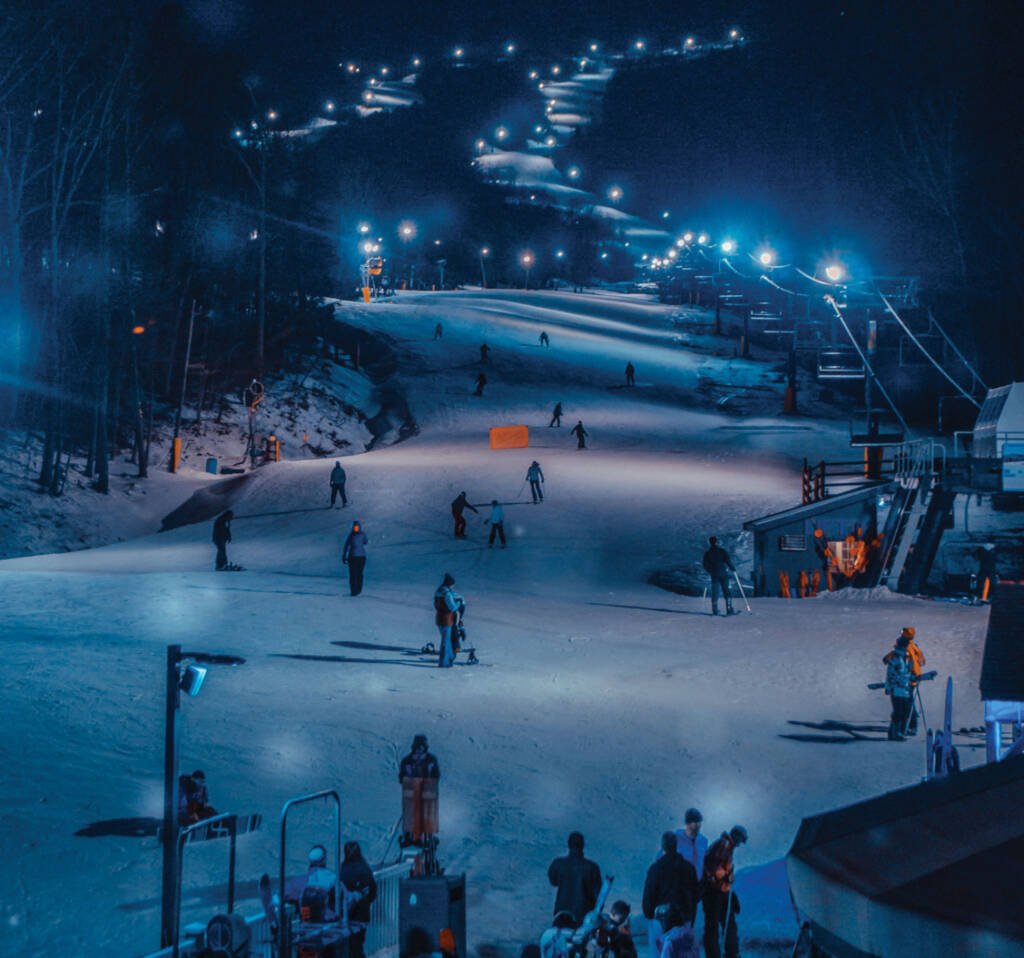 "For almost 20 years our Resort Safety Committee has worked with representatives in nearly every department to provide department-specific training plans," said Hess. "We are also proud to host our annual Safety Awards Luncheon – The Sammy's – for those departments that meet or exceed their safety training goals."
Massanutten Resort also takes its role as a steward of the environment very seriously, which has always been part of how Massanutten does business. However, in the summer of 2021, the resort went a step further by creating the Energy and Environmental Sustainability Committee, which is made up of employees from departments across the business who share an interest in reducing Massanutten's carbon footprint.
"This committee has set out to identify the policies and procedures already in place which are related to our sustainability efforts and have found that we are already acting with sustainability in mind," said Hess. "But there is still more that we can do."
Some of Massanutten Resort's current sustainability efforts include participating in the National Ski Areas Association's Climate Challenge, recovering waste oil used for heating its shop during winter, adding additional electric vehicle charging stations, ensuring a greater adoption of LED lighting and adopting a robust recycling program. Looking to the future, the resort is considering additional measures, including a new transit system for resort guests and reusable water bottle filling stations.
The resort is moving towards 'greener' energy generation with the installation of three solar arrays. Scheduled for completion this year, two solar arrays will be installed on rooftops and produce more than 354,000 kilowatt hours of power each year. The third installation – pending approval by Rockingham County – will be a ground array adjacent to Massanutten Resort's WaterPark which, when complete, will generate more than 1.9 million kilowatt hours of clean electricity annually.
"This solar energy development demonstrates our commitment to reducing [Massanutten Resort's] environmental impact in meaningful ways," said Hess. "As climate change makes our ski seasons increasingly unpredictable, taking on projects that produce renewable energy and reduces our carbon footprint aligns with Massanutten's values in finding innovative solutions that can allow us to thrive as a ski area located in the mid-Atlantic."