An innovative wayfinding solution that transforms the navigation experience in complex spaces, VistaMap offers a state-of-the-art solution to simplify and enhance navigation for visitors.
Combining digital mapping, interactive displays and user-friendly interfaces, VistaMap is revolutionizing how people find their way in various environments, providing ultimate flexibility and adaptability.
Gary Milliken – a graduate with a bachelor's degree in illustration from Parsons School of Design – created VistaMap while he was running a house painting company in Hurley, N.Y., in 1994.
"I became aware of a company called Sitour North America that provided trail map displays to ski resorts, so I introduced myself and walked out with a job," he said. "All of their displays were hand-painted (four feet by eight feet and eight feet by 12 feet typical sizes) and, therefore, required any changes to be painted directly on each individual map."
After four years at Sitour, Milliken began exploring a digital alternative to illustrating and producing maps, bought his first Mac computer and learned how to use it before venturing out on his own to start VistaMap.
"My goal with VistaMap was to recreate a single-production source where maps would be easy to update – not limited by resolution – and could be reproduced multiple times," he said.
Essentially, VistaMap:
Provides a comprehensive system for creating and maintaining trail and guest maps.
Combines all information one wishes to provide – from the rendering of the facility to the informational overlays.
Provides files in a format that can be used for all output needs.
Updates services to keep maps accurate and on schedule.
"In the last 30-plus years, VistaMap has produced trail maps and other guest maps for over 60 resorts in the U.S., Japan, Italy, New Zealand, and Canada," Milliken said.
Wide range of uses
Digitally rendered trail maps can be beneficial for a wide range of uses – including risk management – because of their inherent clarity, flexibility and the fact that Milliken builds maps to include all trails. Even those that may be obscured by terrain in a photograph or Google Earth type image.
"VistaMap maps are layered such that every object or group of like objects (trees, shadows, slow zones, etc.) each reside on individual layers, and can be accessed and modified as such," Milliken said. "We can change colors, remove unneeded information, dim elements to highlight others, etc."
One of Milliken's more extensive groomer maps includes authorized routes, danger zones – where other on-mountain activities may be going on when groomers are active – fuel depots and more, all in a clear and concise format.
Risk mitigation strategies
Digital maps can be of great help when it comes to executing risk mitigation strategies for ski resorts hosting winter sports. Milliken says this is primarily done by providing a clear, well thought-out and comprehensive representation of all mountain information.
"The mountain rendering should, to a certain degree, function on its own (albeit at a very basic level). That is, looking at the rendering without information should give the viewer some sense of the terrain and its variations. Once other information is added such as names, difficulty symbols, etc., it is important that it, along with the mountain rendering, work together to provide a clear, understandable delivery of that important information."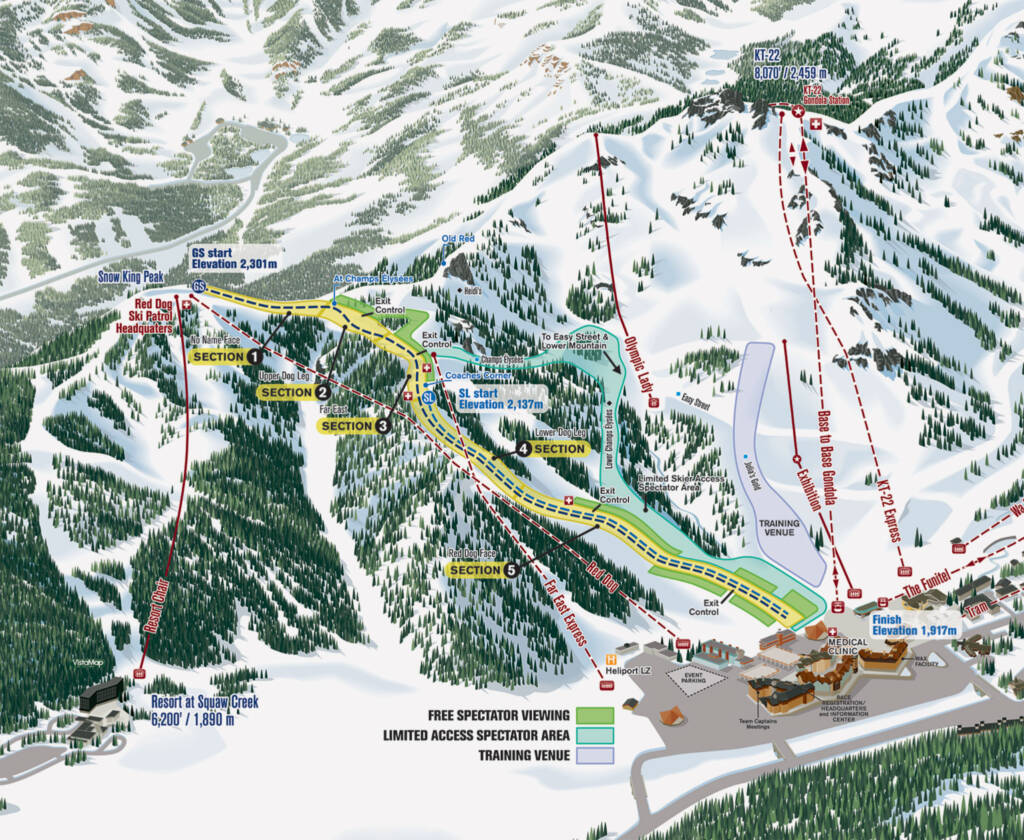 In building their maps, Milliken almost always modifies the depiction of the terrain and various mountain features so that all runs are included. That is, unless an inset map is required or desired.
"However, solving that puzzle doesn't end there," he said. "We work hard to not just include that terrain, but also maintain scale and ensure that runs flow downhill, all in a manner that is easily readable to the guest or user."
Another example would be special-use maps such as the venue map VistaMap created for the FIS World Cup at Palisades Tahoe, which shows venue access, facilities, course access gates, media access, viewing areas, restricted areas and other information.
A Daunting Task

Creating accurate and detailed wayfinding maps for ski resorts, amusement parks, zoos and other leisure activity venues can be a daunting task.

So, how does VistaMap creator Gary Milliken go about providing clear and concise information, while presenting a colorful rendering that is a valuable tool in enhancing the guest experience?

"I will visit the facility to gather all required reference, if necessary," he said. "While the client is asked to provide any existing information, old maps, aerial photographs, site plans, topographic maps, etc., we make every effort to reduce the responsibility of the client to provide information."

Milliken will take ground-level photographs, make rough sketches and schematics onsite, and take detailed notes to create the final art. Rough sketches and various proofing materials are supplied to the client on a routine basis throughout the creation process.

"This assures that the image and information build in a progressive fashion towards a final map that meets or exceeds the clients' expectations," he said.
When it comes to specific features that a digital map should possess to effectively assist snow groomers, Milliken says while they can accommodate a wide variety of solutions, it's all in the information that risk management and mountain operations choose to provide to their groomers and other on-mountain workers.
Concerning specific regulations and guidelines that resort managers should consider when implementing digital maps for risk management, Milliken says once he receives the required information, he can often provide directions on how to effectively show that information and identify any inconsistent or contradictory information.
"For example, although this is not grooming specific, I often alert resorts to the fact that they have a trail of lower difficulty leading to one of a higher degree of difficulty – without any other options to continue without entering terrain that may be above a skier's ability. This is a liability issue."
As for potential future advancements or trends in using digital maps for risk management at ski resorts, Milliken said, "VistaMap will work continuously to improve the quality of our products and expand the number of unique uses available."