The Madawaska Snowmobile Club (MSC) operates in Madawaska, Maine, in the northeast corner of the U.S., and is situated near the Canadian provinces of Quebec and New Brunswick. SnowOps interviewed the club's membership director, Denise Duperré.
SnowOps: Can you tell us about the MSC's history?
Denise Duperré: The MSC was formally founded in 1971. As a club now operating for over five decades, it has a major history in the community. It isn't uncommon to find memberships spanning three generations or more.
It's very much a generational thing. For example, one of the generational families would be Leo James "June" Daigle. His sons were also members and involved. David Daigle, Sr., was very active and [his] brother Glenn currently is a groomer operator, and his grandchildren are now stepping up. It's the same thing in my case. My father was a snowmobiler, both my fiancé and I are active members, and my children are now members of a snowmobile club. There are many other families where multiple generations have been members of the MSC.
SO: How many trail miles are there?
DD: Madawaska has a good-sized trail system and the junction of ITS (Interconnected Trail System) 81 and 83. We currently groom about 50 miles of ITS and local club trails in Madawaska. It's a big commitment to keep the trails groomed and maintained.
SO: How does MSC advocate for its members?
DD: The Club does a lot of things. We essentially advocate for riders and for organized snowmobiling, we're part of the local tourism economy, we liaise with the Maine Snowmobile Association (MSA), we help ensure that the trails are cleared of debris and groomed, and we mediate between landowners, agriculture and forestry groups.
Whereas the MSA is a legislative body. They advocate in the state capital of Augusta for our sport and clubs, and local government assist with grant moneys. MSA works with State of Maine Inland Fisheries and Wildlife. Game wardens are the ones who police the trails and check to see if snowmobiles are registered. They ensure safety on trails and protect the landowner investments.
SO: How many members does MSC have and can you tell us about its makeup?
DD: We currently have close to 200 members. As the membership director, my role within the organization is to boost membership and participation. I took it as my personal challenge to beat past numbers and grow membership because memberships are what make or break a club.
Age-wise, we have members ranging from 20 years old to 80 years old, with the median age being about 40.
I'd say that the breakdown is about 40 percent local and 60 percent non-local. Non-residents will buy memberships because they come here to ride our trails. I think it's important that they do that. I, myself, am an avid snowmobiler and I also try to support the clubs that maintain the trails I ride on when I'm away from home. I currently have memberships in 13 snowmobile clubs.
"We all do this because we love snowmobiling."

Denise Duperré, Madawaska Snowmobile Club
SO: What benefits come with membership?
DD: Part of the membership monies go to the legislative aspects, such as the MSA, which is a legislative body who advocate for the sport and landowners. The balance goes to the club to pay for essentials, such as maintaining the groomer – things like repair costs, and the cost of diesel and just operating it. Money generated by club memberships make up for shortfalls in funding from the State of Maine.
Members get their MSA Card, the MSC Membership Card, a club sticker for their sled and memberships allow riders to use certain trails that are on private property that the Club has arrangements with.
SO: Can you describe your fundraisers?
DD: We actually just had our Neon Glow Ride and Dinner. It was great. We generated $2,000 from the glow ride. Basically, we bought a of bunch glow sticks, attached them to our snowmobiles and we all went on a guided ride to scenic areas on our club trails. It was really unique and it was a lot of fun.
We also have a 50/50 raffle that runs all year long and there's a winner every week. It costs $2 to play per week, and you have 52 chances a year to win. You can buy three months' worth of tickets, six months' or a year's worth. We have a designated volunteer that manages the program.
SO: What do you personally get from volunteering?
DD: I enjoy volunteering and I enjoy being involved in the community. My day job is in code enforcement. I'm an assistant to the town manager. So, my job is to make sure that our community grows. But I volunteer with the club because I'm a huge snowmobile enthusiast. I advocate both for snowmobiling and for northern Maine.
Volunteering is my way of helping to bring recognition to one of the top 10 spots in the country for sledding. You can go all day long in northern Maine. There are 2,300 miles of trail in Aroostook County.
SO: How many staff and volunteers are there for the area? 
DD: The MSC has one trail master/groomer, two groomer maintenance guys, seven groomer operators, one membership director, four officers and seven directors, along with another five dedicated club volunteers that participate in handling club projects. We are all volunteers. There is no staff per se.
People know about the trails and volunteers. We work all year long to prepare for the snow season, where the work gets real and the hours involved get long.
SO: Can you tell us about Madawaska?
DD: We're located in the heart of the St. John River Valley in Aroostook County. Aroostook County is the size of Rhode Island and Connecticut combined. Madawaska is one of the four corners of the U.S. The main industries here are lumber, paper and agriculture. But the tourism and hospitality industry is also huge. We have a lot of lakes and recreational trails that we all enjoy and ride on.
"As a club now operating for over five decades, it has a major history in the community."

Denise Duperré, Madawaska Snowmobile Club
There is a lot of ice fishing, snowshoeing, skiing and hunting. The Allagash Waterway is not far. The tourism keeps the bars, motels and gas stations open. Snowmobiling is a big part of that. People come here because they want to ride in the woods. They want the white trails and pine trees. They don't want to see buildings. They want blue skies.
SO: Why do people ride Madawaska trails?
DD: Snowmobiling is not a cheap sport. You need a trailer. You're going to pay for hospitality. But still, it is more affordable to ride in Maine than, say, New Brunswick or Quebec because our out-of-state registrations are very affordable. We're a great place for all levels of sledding from day runs, overnight runs, weekenders and those who have invested in camps or second homes for the sake of spending as much wintertime here as possible. There is always sled traffic, seven days a week.
SO: What equipment is used for grooming the trails?
DD: We currently use a Prinoth. We use a 10-foot-plus drag behind. The drag has blades on it to help cut and level snow, and the weight settles the snow down and takes the air out of it. Groomer operators will go out at night when there's no or very little traffic, to set the trail, which will then harden in those cold overnight hours and allows the trail to set firm for the following day's use.
SO: How often are trails groomed? How many nights per week are the groomers operating?
DD: The regular pattern is they groom every day and will take a night or two off if feasible, but if the conditions change, they can groom two shifts a day, seven days a week.
SO: Are your grooming staff all volunteers?
DD: The grooming staff are volunteers, but they're paid a modest stipend which is administered through the municipal parks and rec department. They're essentially volunteering though.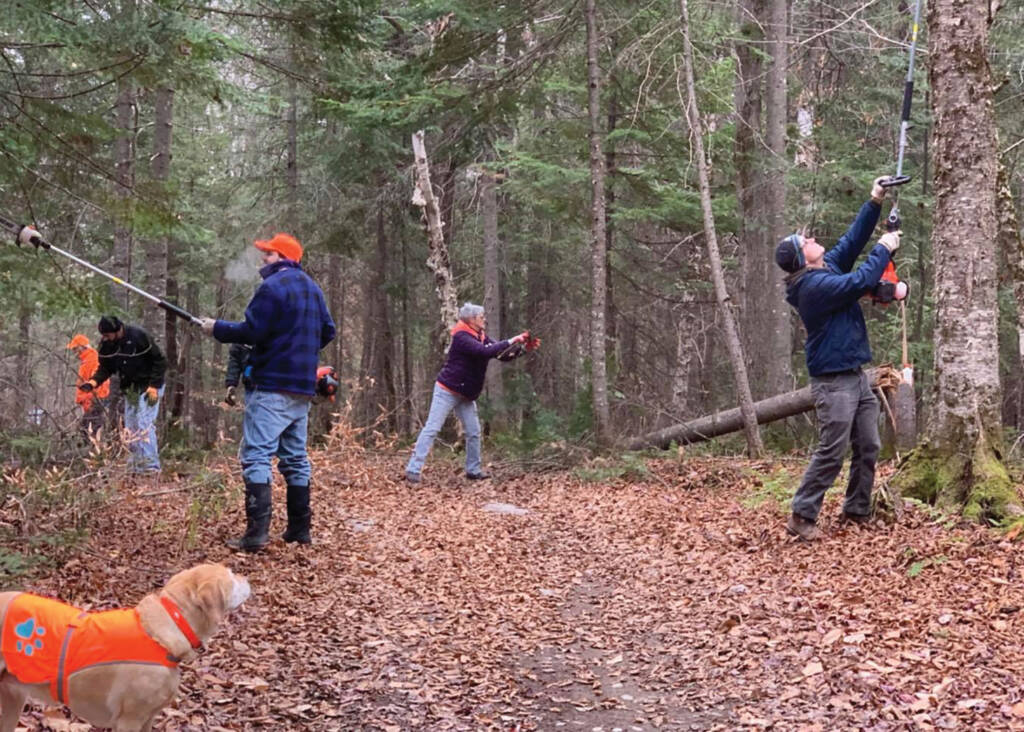 When we do applications for grant funding, a part of the grant stipulations is how the moneys are disbursed. We're lucky enough that the town of Madawaska disburses the stipends for us. The municipality makes sure the grant moneys are administered properly.
The mechanics that maintain our groomer are also volunteers. One is a dispatcher at a local trucking firm and the other is a retired millwright. We all do this because we love snowmobiling.
SO: What kind of training program is offered?
DD: The State of Maine has a grooming training program that falls under the Department of Inland and Fisheries. There's a portion of class time and practical training in order to get your certification. It's very regulated because you're basically a heavy equipment operator. It's administered by the Municipality.
SO: What are some of the club's biggest challenges?
DD: Many of the volunteers and directors are older. Getting a younger base of volunteers is difficult. Because there is a line in the sand between the young and old. The younger people want instant gratification. They want to be able to perform certain tasks right away. Previously, those same tasks would be performed by people with more experience. But I do see a lot of families coming to the sport. For a while, snowmobiling was considered a man's sport. But the industry is trying to move away from that perception and encourage families and people of all genders and capabilities, young and old.