Snow Raiders Snowmobile Club, Inc., was incorporated in 1979, but its story goes back further to a small group of dedicated snowmobilers going out in the frigid cold of southeastern Manitoba, to groom the trails and keep them clear for the safety and fun of other snowmobilers in the area.
Today the Snow Raiders membership fluctuates between 50 and 90 members and operates under the auspices of Snowmobilers of Manitoba Incorporated (Snoman), which was established in 1975 to advance organized snowmobiling, develop snowmobile trails and associated facilities, and to promote snowmobile safety and good environmental stewardship throughout the province. Since 1994, Snoman has also been responsible for administrating the Province of Manitoba's Snopass program; a user pay system that provides member clubs – like the Snow Raiders – with revenue to cover some of the costs associated with snowmobile trail maintenance.
Based out of Ste. Anne, Man., the Snow Raiders are responsible for grooming more than 104 miles (168 kilometers) of designated trails stretching east of Winnipeg to past Richer along the TransCanada Highway; from Steinbach up to Anola; from La Broquerie to Landmark; and then another trail that goes from the TransCanada, down to Highway 15 through the Sandilands Provincial Forest and is considered by members to be one of the club's most picturesque trails. The valuable work done by the Snow Raiders helps to provide the safest alternative routes for riders to enjoy snowmobiling and reduces instances of trespassing on private property.
Under Snoman rules, the club is permitted 12 trail groomings per season, which occur when trail traffic is low, typically at night or during the week. During snowy seasons when additional groomings may be required, the club needs to apply to Snoman for extra funding to pay for expenses. All club operations are completed by volunteer members.
Snoman also recommends that all snowmobilers in the province complete its online Manitoba Snowmobile Safety Course before operating on public lands, roads or designated trails.
"Most of these guys have day jobs and then they'll jump on the groomer and groom until one to three in the morning," said Dale Carriere, president of Snow Raiders Snowmobile Club. "It's the commitment of our volunteers that makes us successful, and the quality of our trails has become a source of pride for the club. We're all diehard snowmobilers so it's in our best interest to have a safe, smooth and fun trail to ride on in the area we live; and every snowmobiler should appreciate the effort that goes into making those trails."
Snow Raiders grooms its network of trails with its 2003 Gilbert trail groomer with a crawler-track system and a 10-foot drag. The groomer is also equipped with a GPS system that keeps tabs on distance groomed to help determine how much Snoman pays out to the club under the organization's rules. The club's groomer routinely racks up to 2,200 miles each season.
However, now almost 20 years old, the groomer is beginning to show its age and often requires extra care and maintenance to stay up and running.
"A new groomer is a big-ticket item and can cost more than $300,000, and we just can't afford to go out and buy one," said Dan Gregoire, Snow Raiders Snowmobile Club treasurer and member of the club since the mid-1990s. "We haven't yet found a used groomer that is better than the one we already have, so we're just fixing ours up for time being. That being said, if the groomer goes down for a significant repair, we're basically done for the year. With that in mind, we are definitely thinking about getting a new groomer sometime in the near future."
The Snow Raiders maintain a pair of facilities: a garage built five years ago for the groomer in Ste. Anne, and an emergency A-frame warm-up shelter along the eastern edge of the club's trail system that connects with the trails of the neighboring Springfield Pathfinders Snowmobile Club.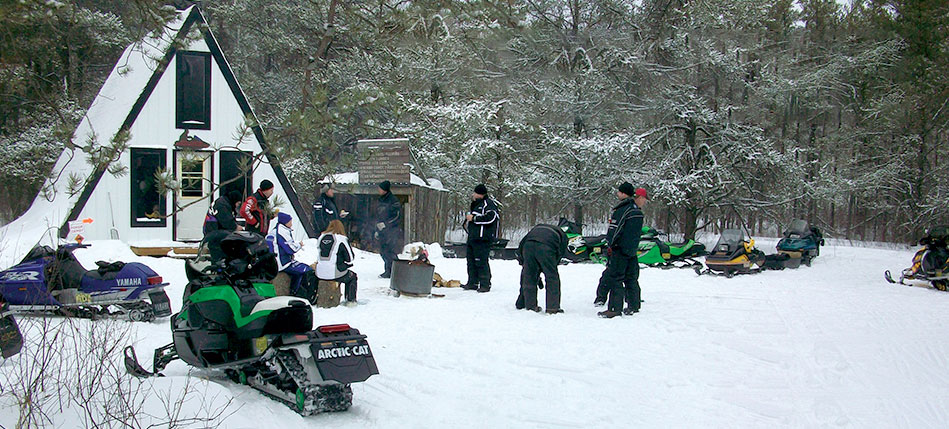 "For a couple members who are in construction, the A-frame is kind of like their baby," said Gregoire. "So if a door gets kicked in or shot out, they'll go out on the weekend and fix it up. And over the years, we've received donations to upgrade the structure, which we use for keeping warm in the winter and events like our annual pig roast."
Securing enough funding to pay for operations is a constant challenge for small snowmobile clubs like Snow Raiders. In addition to the revenue that comes from Snoman and its Snopass system, the club also receives some of its funding through membership dues, the occasional grant or donation, and fundraising events like the club's Poker Derby.
"It's all about the trail system and every cent we make goes back into the club and towards improving the trail system," said Gregoire. "We spend the money on grooming the trails, keeping our groomer up and running, and upgrading what equipment and facilities we have. Absolutely everything goes back into the trail system for the snowmobilers in the region to use."
Snoman strongly promotes a culture of environmental stewardship and has built the concept of sustainability into its Code of Ethics, and provides information online about the impact of snowmobiling on the environment. As such, Snow Raiders expects it members to follow the guidelines and rules, and works closely with Manitoba Conservation and Climate to ensure that it remains compliant when making trails.
"We don't go where we're not supposed to, and we don't want to do anything that destroys the landscape when we put in a trail," said Gregoire. "Even for something as simple as widening the trail, we work with the Conservation guys to get a permit. We're all just more conscious of this kind of stuff and, as snowmobilers, we always want to be vigilant to not impact the environment in a negative way."
"I just love snowmobiling, the trail system and the people involved with the Snow Raiders Snowmobile Club."

Dan Gregoire, Snow Raiders Snowmobile Club
Snoman also recommends that all snowmobilers in the province complete its online Manitoba Snowmobile Safety Course before operating on public lands, roads or designated trails. Snoman also provides grooming and safety training for its clubs, and each club is required to have some of its members take this training to groom the designated trail systems responsibly and safely. For new members looking to take the groomer out, Snow Raiders provides operational training.
"It's sort of a balancing act; you have to keep safety top of mind, but you can't force it on the members because they are just trying to help out the best they can," said Gregoire. "Our members are basically working for free and, occasionally, they'll walk away because of the amount of rules they need to follow and we are left with fewer volunteers to do the job. It can be hard for small volunteer organizations like ours, but we manage."
The last few years have been difficult for the Snow Raiders Snowmobile Club. In addition to pandemic restrictions limiting social gatherings, southern Manitoba also had an unseasonably dry winter last year and little snow for snowmobiling.
"It was just a brutal year," said Gregoire. "We couldn't have our meetings and nobody was getting together to discuss any Club matters. And because there wasn't any snow last year, nobody was even out riding. But now there are guys who want to start doing club rides again and put on more events as soon as possible. Everybody's got a more positive attitude now that there's snow on the ground, and we're all excited that we can actually do a little bit of something."
Becoming a member of Snow Raiders Snowmobile Club, Inc., is easy; all interested parties need to do is email info@snowraiders.ca or find a current member and sign up. For long-time members like Gregoire, it's well worth the challenges, hard work and time commitment.
"Being part of the Snow Raiders Snowmobile Club just gives me the opportunity to help out the community and snowmobilers in the region," he said. "I just love snowmobiling, the trail system and the people involved with the Snow Raiders Snowmobile Club."