"On November 30, 1972, a group of interested snowmobilers gathered and voted to become a club, agreeing to the name Spencer Snowbirds Snowmobile Club.
They began to hold events, and in January of 1974, the club held its first dinner dance and started to raise money for projects, including two significant snowmobile bridges," said Dan Reeve. "One of our larger bridges, over the Seven Mile River, built in 1974, is still in use today – and it's a beast!"
The club has always been ready to lend a helping hand to the community. When the northeastern U.S. was shut down for almost a week in 1978 after a catasthropic blizzard, the Massachusetts State Police – lacking four-wheel drives and recreational vehicles – assigned club members patrol and rescue duties for a 25-mile stretch of the Massachusetts Turnpike from Auburn to Warren, about 10 miles south of Spencer. Since then, the club grew in membership and provides an extensive trail for snowmobile enthusiasts.
The trail system for the Snowbirds is now a complete 26-mile loop around the town of Spencer, population 12,000, 60 miles west of Boston, with Route 71 being the main corridor. In addition, the system connects to other clubs' trail systems and snowmobilers can ride from the Spencer trails all the way to the New Hampshire state line.
"Our trail ends at something called 'Sampson's Pebble,' a large boulder deposited by the glaciers, in the woods at Oakham, and where the Colebrook Snowmobile Club begins," said Reeve.
Trails are connected through the Snowmobile Association of Massachusetts (SAM) to all of the state's trail systems. "So when you become a member of our club, you can ride any of the official snowmobile trails in the state," Reeve said.
"In order to operate a recreational vehicle on a snowmobile trail in Massachusetts, you have to have written permission of the landowner – that's state law – and becoming a member of our club gives you that written permission.
"It provides a trail pass for that sled, which is a sticker that comes out every year and these days, it's $90 a sled. The club gets a portion, the association gets a portion and that money goes directly into maintaining the trail systems."
The club also maintains a $1,000,000 insurance policy against damage for its members operating on the trails.
"We use side-by-sides for trail maintenance, but we are not a multi-use club," Reeve said. "There is pressure from other groups that want us to include ATVs in our trail system, but most of our trail is on private property. We have to go out into the community and get permission from the landowner to have a trail blazed across their property. We stress with our members to stay on the trail and respect the property, but if we were to become a multi-use club, most of our landowners would rescind that permission – they don't want the ATVs on their property. So, we are a snowmobile club and will remain a snowmobile club."
The Snowbirds haven't held many events in the past few years because of COVID-19 restrictions. "But when we do have events, like poker runs and group rides on our trails and the like, there's no alcohol and we discourage drinking while operating a snowmobile," he said. "The culture of snowmobiling seems to be far too accepting of the practice of consuming alcoholic beverages. We really would like to see a greater stance on reducing snowmobiling under the influence."
Reeve is a former snowmobile/ATV fatal crash detective. "I personally hold a strong position on this," he said. "I've seen the way people operate before and after a dinner with three or four drinks, and that was kind of a moment for me – it's extremely dangerous."
The sport's versatility lets anyone enjoy participating
"My wife got me into snowmobiling when we first got married, so I'm fairly new to the sport – whereas my wife's been into snowmobiling since she was five, I'm only 20 or 24 years into it," said Reeve.
He says that the sport has changed in the decades since he first got involved.
"The advances in technology in my 20-plus years of riding have enhanced the sport greatly," he said. "Snowmobiles are more stable and safer and far more fuel-efficient and environmentally friendly, and advances in suspension have made them much more comfortable and easier for persons of all ages, abilities and limitations to enjoy the sport."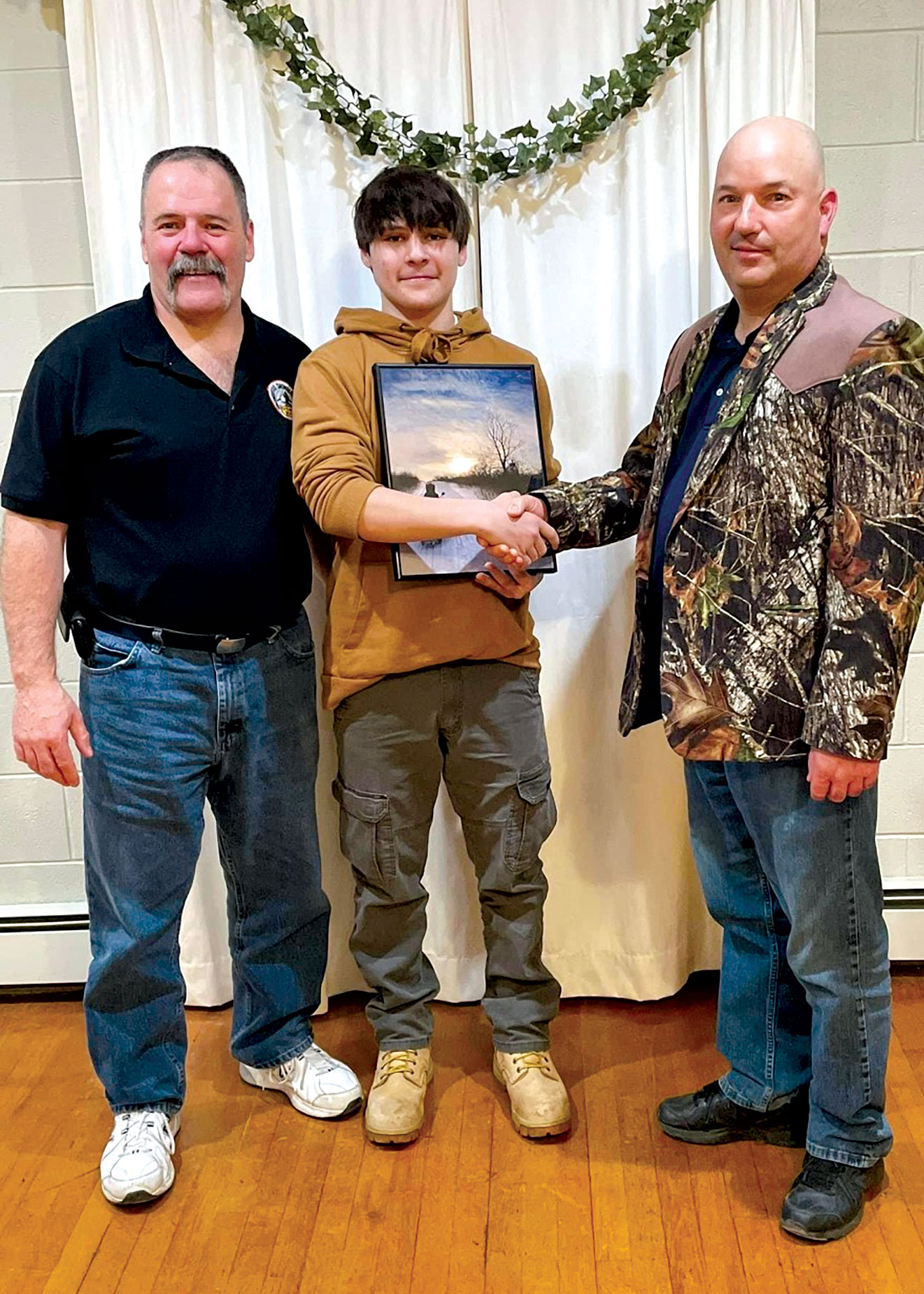 The sport's versatility lets anyone enjoy participating at the level and style they want, whether that's "the excitement of deep snow and hill climbing and drag racing or traditional trail riding," he said. "We are fortunate to have second- and third-generation members continuing to be involved and passing on the great sport of snowmobiling."
Roger Witt and David LaCroix (Reeve's father-in-law) are two of the club's most senior and long-standing members. Both men joined the club in 1977 and have served on the board of directors in every leadership position – as president, vice president, secretary and treasurer – and are still active today. The club's membership numbers have fluctuated over its five decades, but these days it maintains a list of about 75 to 100 members. Reeve, serving his third and final year as the president, says he'd like to see more people joining the club.
Donating time and energy to the community
"We don't own a clubhouse, but we have been working on a relationship with 4H over the last several years and utilize the 4H building (in Spencer)," he said. "I'm facilities-oriented, so I'm trying to improve our storage setup on the property because a good setup makes work more efficient. We're working on some projects to improve electrical service and bought a container to store equipment out of the weather, which helped immensely."
Members are also learning how to write grant applications so that the club can upgrade the storage facilities and its groomers "so that we can break into the next century – most of our groomers are upwards of 30 years old – but it all costs money," Reeve says.
The club maintains an excellent relationship with the police who patrol the area, work hard to help the club maintain the trails, and try to prevent and deal with trespassers.
"We are fortunate to have second- and third-generation members continuing to be involved and passing on the great sport of snowmobiling."

Dan Reeve, Spencer Snowbirds Snowmobile Club
"There's always going to be a problem with people using the trails who don't buy trail passes and they do get away with it, and just to save $90 a year," Reeve said. "It's disrespectful because we do all the work and get the permissions."
The 30 clubs comprising SAM have more than 8,000 members. In 2021, SAM named Spencer Snowbirds Snowmobile Club member Doug Drew its Junior Snowmobiler of the Year. Doug regularly goes out trail grooming with his dad, club vice president Steve Drew, and when some pedestrians were injured out on the rail trail, the pair happened to be in the vicinity and helped firefighters and EMTs by driving them to the scene. The SAM award was given to Doug in recognition of his work on the trails and his assistance at the accident. Recent estimates show more than 2,100 miles of snowmobile trails in Massachusetts and more than 17,000 registered snowmobiles. However, snowmobiling in the state is only possible because of volunteers like Doug and his dad.
"He's learning how to donate his time and energy to his community," Reeve said.
"Above all, we are a family-based club – that's important to us. We want to promote the safe and respectful use of trails and use of the outdoors, foster relationships with our local public and local governments, and work together for safe and sober outdoor recreation."
The club hopes to celebrate its 50th anniversary with a big event, possibly a banquet, early this year and will post updates on its website (www.spencersnowbirds.com).